The Ministry of Healing |
mp3 CD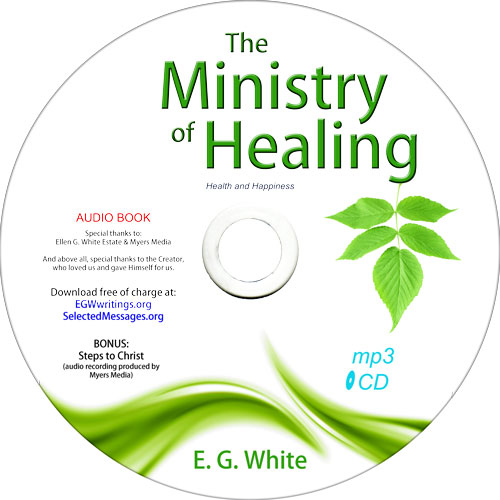 by Ellen G. White
- An excellent audio book on how to develop a healthier mind and body; and improve your spiritual life.
- Insightful information for health professionals on speeding the healing of their patients.
Note: This CD can be read only by computers or CD players that support the mp3 format.
FREE + FREE WORLDWIDE DELIVERY
Please do not order more than 3 items today, or impersonate someone else.
Waiting time to receive this: up to few months.

This free offer is only for those that cannot download or afford to purchase (see download links or shops that sell this).
1. Our Example
2. Days of Ministry
3. With Nature and With God
4. The Touch of Faith
5. Healing of the Soul
6. Saved to Serve
7. The Co-Working of the Divine and the Human
8. The Physician, an Educator
9. Teaching and Healing
10. Helping the Tempted
11. Working for the Intemperate
12. Help for the Unemployed and the Homeless
13. The Helpless Poor
14. Ministry to the Rich
15. In the Sickroom
16. Prayer for the Sick
17. The Use of Remedies
18. Mind Cure
19. In Contact With Nature
20. General Hygiene
21. Hygiene Among the Israelites
22. Dress
23. Diet and Health
24. Flesh as Food
25. Extremes in Diet
26. Stimulants and Narcotics
27. Liquor Traffic and Prohibition
28. Ministry of the Home
29. The Builders of the Home
30. Choice and Preparation of the Home
31. The Mother
32. The Child
33. Home Influences
34. True Education, a Missionary Training
35. A True Knowledge of God
36. Danger in Speculative Knowledge
37. The False and the True in Education
38. The Importance of Seeking True Knowledge
39. The Knowledge Received Through God's Word
40. Help in Daily Living
41. In Contact With Others
42. Development and Service
43. A Higher Experience
See the description of the book: Ministry of Healing.

SPECIFICATIONS
Code: SM 050 C MH