The Great Controversy |
book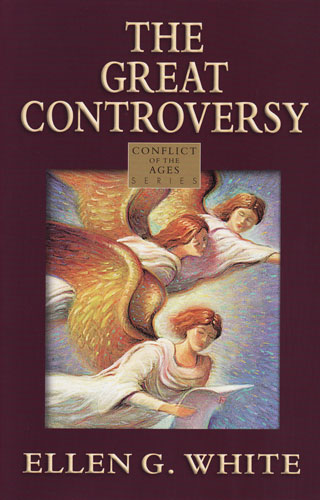 by Ellen G. White
- The battle between good and evil is more than just a cosmic battle. Planet earth is a place where this battle is taking place as well. It is now the theater for this great controversy. It is about to end, and you are involved. Learn why and how to be on the Winner's side. Discover how human agents participate in this war.
To download it as audio (mp3), click here.
FREE
+ free worldwide delivery
Expect extensive delay, as many requests are pending processing.
Please do not order more than 3 books today (CDs/DVDs as many as needed), or impersonate someone else.
This free offer is only for those that cannot download or afford to purchase (where to buy).
1. A Forecast of the World's Destiny
2. The First Christians
3. An Era of Spiritual Darkness
4. The Faithful Torchbearers
5. The Light Breaks in England
6. Two Heroes Face Death
7. Luther - a Man for His Time
8. A Champion of Truth
9. Light Kindled in Switzerland
10. Progress of Reform in Germany
11. The Protest of the Princes
12. Daybreak in France
13. Stirred by Reform
14. Truth Advances in the British Isles
15. Terror and Retribution in France
16. Seeking Freedom in a New World
17. Promises of Christ's Return
18. New Light in the New World
19. Light Through Darkness
20. A Global Religious Awakening
21. Results of Rejecting Truth
22. Prophecies Fulfilled
23. The Mystery of the Sanctuary Unfolded
24. Jesus Christ Our Advocate
25. America in Prophecy
26. An Hour for Reform
27. Modern Revivals
28. Facing Our Life Record
29. Why Were Sin and Suffering Permitted
30. Man's Worst Enemy
31. Who Are the Angels?
32. Snares of Satan
33. The Mystery of Immortality
34. Can the Dead Speak to Us?
35. Liberty of Conscience Threatened
36. The Impending Conflict
37. Our Only Safeguard
38. God's Final Warning
39. The Time of Trouble
40. God's People Delivered
41. The Earth in Ruins
42. The Controversy Ended
"The great controversy is ended. Sin and sinners are no more. The entire universe is clean. One pulse of harmony and gladness beats through the vast creation. From Him who created all, flow life and light and gladness, throughout the realms of illimitable space. From the minutest atom to the greatest world, all things, animate and inanimate, in their unshadowed beauty and perfect joy, declare that God is love."
Revealing the ultimate plan of God for humanity, this masterful volume is a thrilling presentation of the past, the present, and the future. The source of comfort and inspiration to millions of people already, it could be one of the most important books you ever read.
Description from The Great Controversy
SPECIFICATIONS
Code: SM 001 B GC
ISBN: 0-8163-1419-5
Pages: 383