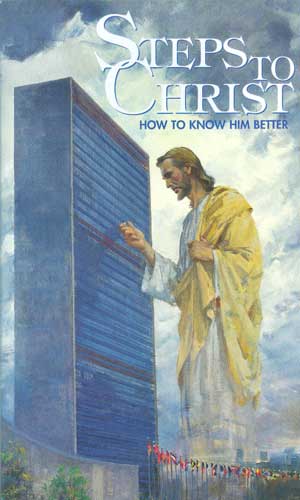 by Ellen G. White

- Outlines the steps to be taken in order to develop a solid relationship with Christ and maintain it.
- This book is for those who are searching for the way to eternity; for those which are not satisfied with themselves. You will find different the Love that has been sacrificed for you. You will find peace for your soul.
FREE
(the item and postage to any country are 100% free)
Please do not order more than 3 items today. If possible, please download rather than order. PLEASE DO NOT IMPERSONATE SOMEONE ELSE. ORDER ONLY FOR YOURSELF.
There might be delays in processing your order.
1. God's Love for Man
2. The Sinner's Need of Christ
3. Repentance
4. Confession
5. Consecration
6. Faith and Acceptance
7. The Test of Discipleship
8. Growing Up Into Christ
9. The Work and the Life
10. A Knowledge of God
11. The Privilege of Prayer
12. What to Do With Doubt
13. Rejoicing in the Lord
For God so loved the world, that
He gave His only begotten Son,
that whosoever believeth in
Him should not perish, but
have everlasting life.
John 3:16

SPECIFICATIONS
Code: SM 003 B SC
Pages: 90