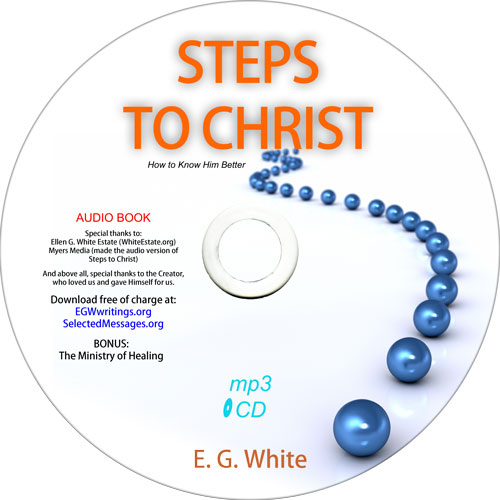 by Ellen G. White
- Wandering what are the steps to be taken in order to develop a more intimate relationship with Jesus? Than this audio book is for you.
Note: This CD can be read only by computers or CD players that support the mp3 format.
FREE
(the item and postage are 100% free to any country)
Please do not order more than 3 items today.
Waiting time to receive this: ~few months.

This free offer is only for those that cannot download or afford to purchase (see download links or shops that sell this).
1. God's Love for Man
2. The Sinner's Need of Christ
3. Repentance
4. Confession
5. Consecration
6. Faith and Acceptance
7. The Test of Discipleship
8. Growing Up Into Christ
9. The Work and the Life
10. A Knowledge of God
11. The Privilege of Prayer
12. What to Do With Doubt
13. Rejoicing in the Lord
See the description of the book: Steps to Christ.

SPECIFICATIONS
Code: SM 049 C SC