Prophecy Foundations |
DVD-ROM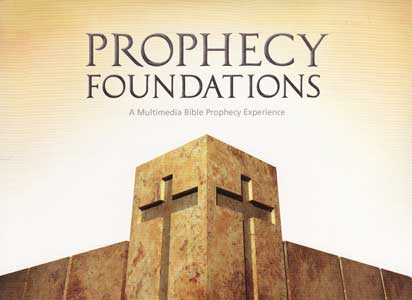 by Amazing Facts
- This DVD offers comprehensive information on Bible prophecy.
- Over 20 hours of video; 51 topical Bible study lessons; 10 Bible lessons for kids; and more.
Note: this DVD-ROM does not work with stand-alone DVD players, and only with some computers.
FREE
(the item and postage are 100% free to any country)
Please do not order more than 3 items today.
There might be delays in processing your request.

Note: this free offer is only for those that cannot afford to purchase (see links to shops that sell this item).
Out of stock.
Alternative: Discover Prophecy Seminar DVD set.
1. Can You Trust the Bible
2. The Origin of Evil
3. Salvation
4. Heaven
5. Marriage & Family
6. The Ten Commandments
7. The Sabbath
8. Jesus' Second Coming
9. Baptism & the Spirit
10. Death
11. Hell
12. Millennium
13. Health
14. Obedience & Standards
15. The Antichrist
16. Three Angels' Messages
17. The Sanctuary
18. 2300 Day Prophecy
19. The Judgment
20. Mark of the Beast
21. USA in Prophecy
22. Babylon is Fallen
23. God's Last Church
24. Proving the Prophets
25. Christian Finance
26. Christian Living
27. The Unpardonable Sin
...and possibly more
Prophecy Foundations
is a revolutionary Bible study experience that will transform the way you understand last-day prophecy!
You will explore 27 different topics in-depth with a powerful array of multimedia presentations at the click of a button, including…
25 hours of video footage
48 topical pocket books
9 in-depth books by prophecy experts
173 audio presentations
51 topical Bible study lessons
10 Bible lessons for kids
Each study is loaded with Scripture references that will help you unpack the mysteries of Bible prophecy for yourself, enabling you to uncover key prophecy concepts in just a short time.
System Requirements
Windows: Intel Pentium III 1GHz or faster processor, 512 MB of RAM; Windows 7, Vista, XP
MAC OS X: Intel Core Duo 1.83GHz or faster processor; MAC OS X 10.4.4 or Mac OS X 10.5.4, 10.5.5 and 10.6 512MB of RAM
Description from Prophecy Foundations

SPECIFICATIONS
Code: SM 041 D PF
Duration (video): 25 hours
System: Windows and MAC (might not work on all computers)