Kids' Time volume 1 |
DVD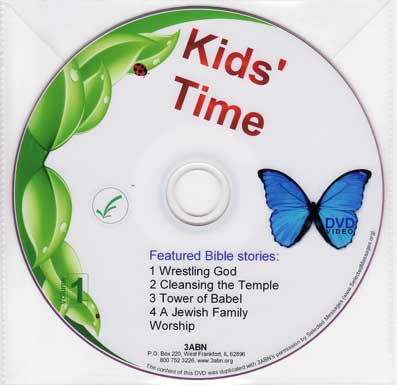 by 3ABN

- Watch Bible stories come alive.
- Learn how to cook kid-friendly recipes which are healthy and taste great.
- Have fun singing new songs.
- And more.
FREE
(the item and postage are 100% free to any country)
Please do not order more than 3 items today.
There might be delays in processing your request.

Note: this free offer is only for those that cannot afford to purchase (see links to shops that sell this item).
Please do not order this DVD during the Sabbath.
Vol. 1 Features Bible Stories:
1. Wrestling God
2. Cleansing the Temple
3. Tower of Babel
4. A Jewish Family Worship
Join Brenda Walsh (Miss Brenda) and her young friends as they explore nature, learn about the Bible, and sing songs of praise. From science experiments to healthy cooking, from gardening to Bible stories, there's never a dull moment!
Description from Kids Time Vol. 1
SPECIFICATIONS
Code: SM 043 D KT1
Duration: 2 hours
Produced by: Brenda Walsh
Publisher: Three Angels Broadcasting Network
For children: 5-13 years old