Hidden Dangers in Harry Potter |
booklet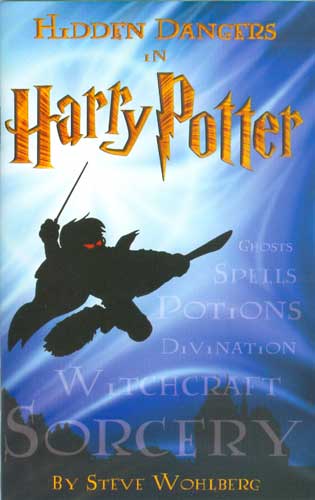 by Steve Wohlberg

- An informative look at the teachings of J. K. Rowling's best selling fiction series.
- The Bible is permitted to have its say on the predominant element of Harry Potter - witchcraft.
- Reveals some of the dangers 'hidden' within.
FREE
(the item and postage are 100% free to any country)
Please do not order more than 3 items today.
There might be delays in processing your request.

Note: this free offer is only for those that cannot afford to purchase (see links to shops that sell this item).
1. Like A Rolling Tidal Wave
2. Pottermania
3. The Harry Potter Story
4. Many Parents are Concerned
5. Problems and Muggle Messages
6. Real Witchcraft
7. Fiction Affects Children
8. Potter Fans Turning to Witchcraft
9. From Fantasy to Dangerous Reality
10. What Does the Bible Say?
11. A Cosmic Conflict
12. Deadly Fallen Angels
13. Real Occult Practices Listed
14. Revelation Warns of Global Sorcery
15. Lucifer Behind the Spectacles
16. Wholesome Alternatives
17. The Love of Jesus Christ Endnotes
SPECIFICATIONS
Code: SM 007 B HDHP
ISBN: 1-58019-170-3
Pages: 32