Conflict of the Ages Series

|
mp3 DVD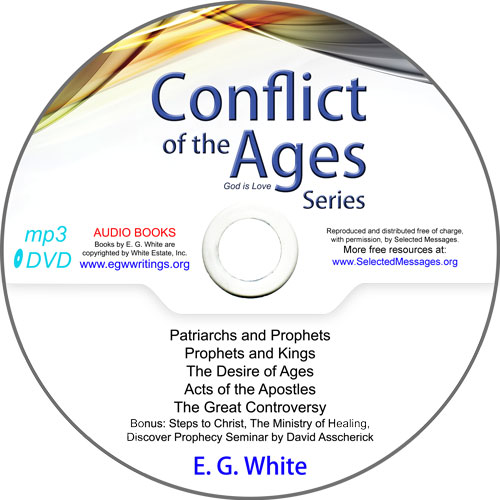 by Ellen G. White

- For six thousand years planet Earth has been the center of the cosmic conflict between good and evil. This DVD contains the five books in the series that comments in detail most of the Bible. The books are: Patriarchs and Prophets, Prophets and Kings, The Desire of Ages, The Acts of the Apostles and the Great Controversy.
- This mp3 DVD contains seven audio books and a prophecy seminar.
FREE + FREE WORLDWIDE DELIVERY
Please do not order more than 3 items today, or impersonate someone else.
Waiting time to receive this: unknown due to postage distruptions, etc.

This free offer is only for those that cannot download or afford to purchase. -->(Please click here for download links or shops that sell this).
BOOK 1. Patriarchs and Prophets
BOOK 2. Prophets and Kings
BOOK 3. The Desire of Ages
BOOK 4. The Acts of the Apostles
BOOK 5. The Great Controversy

BONUS
BOOK 6. The Ministry of Healing
BOOK 7. Steps to Christ
DISCOVER Prophecy Seminar by David Asscherick
SPECIFICATIONS
Code: SM 051 D CAS